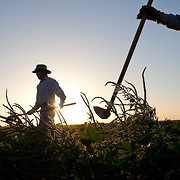 From Laird Townsend for Mother Jones and the Midwest Center for Investigative Reporting, the story of family farmers facing drier than Dust Bowl conditions, and limited options.
An excerpt:  *If recent research by the US Department of Agriculture is any indication, the crop failures will be a sign of the future. In a February 2013 report, the agency rounded up relevant scientific findings from 56 experts from federal service, universities, and nongovernmental organizations. The results cast doubt on the viability of the US heartland in the age of
warming—and not just for dryland cotton. "Continued changes by mid-century and beyond," the report said, "are expected to have generally detrimental effects on most crops and livestock." Among other problems, "weed control costs total more than $11 billion a year in the US. Those costs are expected to rise with increasing temperatures and carbon dioxide concentrations."*
Photo courtesy of Ben Depp.