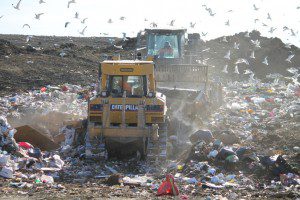 From Sarah Hadley and Sujin Kim of IowaWatch, a two part series on the unsustainable growth of landfills in the state.
An excerpt from part one:
"More than half of what Iowans dump into landfills could have been recycled or composted. In some areas, that amount is as high as 75 percent, landfill operators said. An IowaWatch investigation revealed that the gap between tons dumped into the ground and tons recycled at Iowa's top five waste agencies is widening.
And unless something changes, it's set to stay that way because of a lack of available recycling programs, the way recycling and landfill programs are funded by the state, and poor record keeping."
Part two explores new incentives that could reverse the trend.
Photo by Sujin Kim.