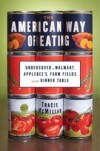 Tracie McMillan's "The American Way of Eating" has hit a nerve. The New York Times review of her book investigating the food industry praises her approach as forthright and "lighted from within by anger."
According to the Times, the book is a "brutal takedown of corporations" that cheat food workers out of pay and supply Americans with poor quality food.
Rush Limbaugh has a different view.  On his radio program, he slammed the award-winning McMillan as an "authorette" who is "overeducated." Limbaugh's commentary is infused with worries that her expose might provoke government intervention in the private food industry.
A grant from the Fund for Investigative Journalism helped McMillan in her research for the book; she is now a fellow with one of FIJ's partners, the Schuster Institute for Investigative Journalism at Brandeis University.