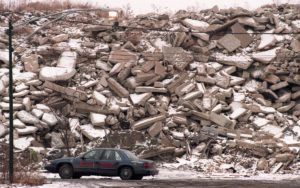 The City, a new investigative podcast from USA TODAY, tells the story of an undercover FBI investigation that failed to bring justice to a black Chicago neighborhood that had been the victim of illegal dumping perpetrated by the mob. 
The City was created by investigative reporter Robin Amer, who received bridge funding for the show from FIJ. 
The story begins in Chicago in 1990. Highways are rebuilt, old buildings demolished, new parks and skyscrapers erected. But all that rubble has to go somewhere: a pair of vacant lots in a black, working-class neighborhood called North Lawndale.
At the helm of this operation is a guy sporting a Cosby sweater, manicured nails, and underworld connections: John Christopher. For more than a decade, what Christopher does on this lot is a tour through the underbelly of Chicago: aldermen get indicted; an FBI investigation goes awry; a neighborhood gets polluted with impunity. And a community's resilience is tested—all under the specter of racism in America.
A City of Chicago car drives past the illegal dump site at the center of the investigation. Photo by Brian Jackson
[FIJ thanks The Park Foundation for providing the funding for this project.]