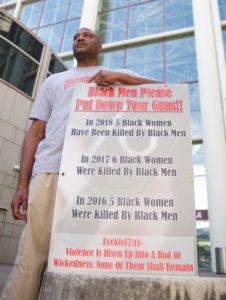 Five black women were killed in Mobile, Alabama, in 2016, six in 2017 and five by April this year. That is 16 women dead, mostly at the hands of black men, over three years in this small Southern city.
In a story for NBC News—and her latest piece on domestic violence in the black community—FIJ and Schuster Institute Fellow Chandra Thomas Whitfield tells of police sergeant John C. Young, who, in April, asked the Mobile City Council to address the issue of black women being killed by intimate partner violence.
Young received a tepid response.
A Centers for Disease Control and Prevention study notes that black women are 35 percent more likely to be victims of domestic violence than white women. In the story, L.A. author Sa'iyda Shabazz says silence about the issue for many in the black community stems from worries of contributing to the racist stereotype that black men are more violent than men of other races.
Meanwhile, Young says he will continue his one-man crusade despite the city council's lack of response.
John C. Young protests in front of the Mobile Government Plaza. Photo by Tim Jones
[FIJ thanks The Ford Foundation for providing the funding for this project.]