Application Deadline Set for October 21
The Fund for Investigative Journalism (FIJ) seeks proposals for investigative projects from independent journalists for grants to cover travel and other reporting expenses. The next deadline has been pushed back to Monday, October 21, 2013, at 5pm EDT.
FIJ is interested in proposals that break new ground and expose wrongdoing. Projects from ethnic media are strongly encouraged. FIJ is now accepting applications for domestic and overseas investigations.
Grants average $5,000. The awards support the costs of reporting, such as travel and document production expenses.
See the "Apply for a Grant" page for detailed instructions.
Prospective applicants are encouraged to contact executive director Sandy Bergo with questions about the process, 202-662-7564, or fundfij@gmail.com.
The Business of Baby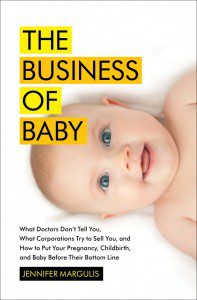 From author Jennifer Margulis, "The Business of Baby," published by Scribner. An excerpt: "As this book will show you, time and time again corporate profits and private interests trump what is best for moms and babies. The science is consistently ignored, and practices proven to be harmful are continued. Doctors – even though most have the best possible intentions – often unwittingly go along with a broken and sometimes dangerous system."
From Scribner: "Margulis' revelations will shock you. Prenatal vitamins contain carcinogenic ingredients; foreskins from circumcised newborns are sold to the beauty and artificial skin industry; and the leading proponent of delayed potty training is a paid spokesperson for Pampers."
Reva & David Logan Foundation Grant Supports Investigative Reporting
Washington – The Fund for Investigative Journalism is pleased to announce that The Reva & David Logan Foundation has awarded $50,000 to support the fund's grant-making program for independent investigative reporters around the world.
In making the donation, The Foundation cited the Fund's role in "helping to develop the journalistic talents of the future," as one reason for supporting its grant-making and mentoring programs.
"We are deeply grateful for this support," said Brant Houston, president of the Fund's board of directors. "It will allow the Fund to assist international journalists at a time so many local investigative stories have global links and implications."
For more than forty years the Fund has paid reporting expenses of reporters who have the ideas, sources, and know-how to produce groundbreaking investigative journalism but lack the resources to complete their projects.
The Reva & David Logan Foundation supports several premiere investigative journalism organizations, including The Center for Investigative Reporting in Berkeley, The Centre for Investigative Journalism in London, FRONTLINE and The Investigative Reporting Program at the University of California.
The Foundation has also endowed a distinguished chair in investigative reporting at the University of California Berkeley's Graduate School of Journalism, currently held by veteran investigative journalist, Lowell Bergman.
The annual Logan Symposium on Investigative Reporting at The University of California, Berkeley brings together investigative reporters, editors, students and funders to network and collaborate in developing new models for reaching larger audiences with high impact investigative reporting and creating new avenues for profitability.
When asked why his charitable giving supported investigative journalism, founder David Logan, who died in 2011, said he considered investigative journalists to be "the guardians of the public interest."
The Fund for Investigative Journalism is an independent, nonprofit organization that has supported hundreds of public service reporting projects since 1969, when it provided funding for Seymour Hersh to investigate the massacre of civilians by American soldiers in My Lai, Vietnam.
Many renowned journalists have received grants from the fund early in their careers, including Hersh, Lowell Bergman, Elizabeth Drew, Alan Berlow, Sandy Close, and Daniel Zwerdling. Four recent grantees were honored as finalists for the Livingston award for young journalists.
In addition to support from The Reva & David Logan Foundation, the Fund for Investigative Journalism receives foundation support From The Ethics And Excellence in Journalism Foundation, The Park Foundation, The Herb Block Foundation, The Gannett Foundation, The Morton K. and Jane Blaustein Foundation, The Green Park Foundation, The Nara Fund, from private family foundations, and from individuals.
The John S. and James L. Knight Chair in Investigative and Enterprise Reporting at the Journalism Department in the College of Media at the University of Illinois also supports the fund. Pro bono legal services are provided by Dykema.
Donations to the fund can be made online, www.fij.org, or by mail to the Fund for Investigative Journalism, 529 14th Street NW – 13th floor, Washington D.C. 20045.
Rare Element Mine Could Pit Jobs vs. Environment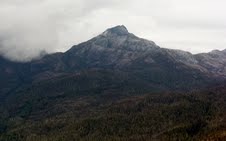 From Steve Fisher for New America Media, the story of an element needed for cell phones, weapons, and hybrid cars – available to be mined in Alaska. Its discovery brings hope to the unemployed, but concern for the environment: "Dysprosium, a "rare-earth" element, is essential in the production of technologies as varied as iPhones, wind turbines, smart bombs and predator drones. China currently dominates the global dysprosium market, but the discovery near Hydaburg could change all of that by supplying U.S. production demands for decades to come.
Not everyone in Hydaburg, however, is enthusiastic about the idea of a mine. Despite the promise of jobs, some residents say a mine will lead to pollution of their salmon fisheries – amounting to a sacrifice of the town's economic and cultural lifeblood for a mining prospect that, environmentally and economically, raises more questions than it answers." Read more.
Uneven Results in Alaska Anti-Poverty Project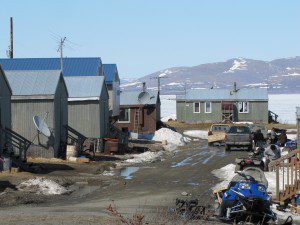 From Lee van der Voo, for InvestigateWest and the New York Times, the investigation of a federal anti-poverty program for Alaska fishing communities, which finds that lavish salaries for program leaders and a lack of oversight has undermined progress. Some villages still lack basic necessities such as sanitary toilet facilities for its public health care clinic.
An excerpt: "..the results on the ground, in rural community and economic development, have been deeply uneven, and nonexistent for many people who still gaze out to the blinking lights of the factory ships and wonder what happened.
'You eat from one bowl,' said Ivan M. Ivan, 67, chief of the native community here in Akiak, quoting the Yup'ik Eskimo cultural adage about shared resources. 'That didn't happen.'"
The Death of a Prison Reformer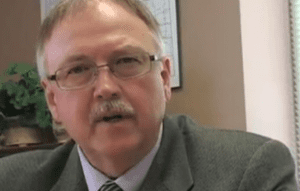 From Susan Greene for The Colorado Independent and Huffington Post, the story of the devastating impact of the wide scale use of solitary confinement in US prisons. Her article draws a connection between the recent murder of the chief of Colorado prisons and an inmate who was released after being confined for years in solitary.
An excerpt: "Combing through Colorado's data, [the late Tom] Clements fixated on the statistic he quoted to me when we met. He believed that the 47 percent of prisoners in solitary confinement who were walking free needed step-down programs to relearn social skills and develop ways to cope with the world outside their tiny cells. He brought up the statistic at staff retreats, community meetings and over dinner with friends."
California Cap-and-Trade: Pollution as Usual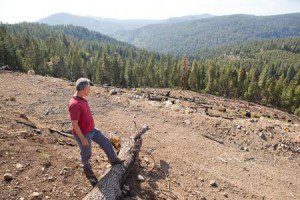 From San Francisco Public Press, a series on cap-and-trade, California-style. Among the findings: car pollution will increase, carbon offsets could mean pollution-as-usual, low-carbon power in California could increase emissions elsewhere, and plans to replace forest with tree farms could backfire. But there is good news in some areas, where carbon credits provide incentives for preservation. Start reading the series here.
Photo credit: Ian Umeda, San Francisco Public Press
Brooklyn Case Put on Hold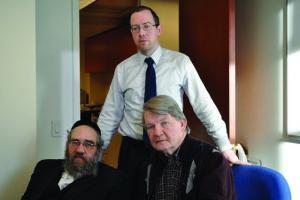 From Hella Winston for The Jewish Week, the Brooklyn DA's office says it needs more time to prepare its prosecution of an Orthodox Jewish whistleblower who reported sexual abuse.
An excerpt: "With the Brooklyn district attorney's case against chasidic sex abuse whistleblower Sam Kellner seemingly falling apart amid mounting evidence that Kellner's main accuser may have been manipulated and paid to lodge false charges against him, sexual abuse survivors and advocates are taking to the streets to protest the DA's conduct in the case." Read more.
Photo credit: Sam Kellner and lawyers, by Hella Winston.