FBI to Citizen: Inform, or Else
Nick Baumann, for Mother Jones, tells the story of Naji Mansour, an American citizen living abroad who refused to become an informant for the Federal Bureau of Investigation. He and his family suffered the consequences.
From the article:  Two weeks into his detention, Naji's jailers escorted him from his cell into a clean, bright room, where at last he saw a familiar face, a fellow American. It was an FBI agent he'd met with in the past. The agent told Naji that he could end his nightmare. "Help me help you," he said.
And here is a transcript and audio of FBI agents interviewing Mansour.
Photo credit: David Degner.
Burn Wood to Save the Climate? In a Word: No.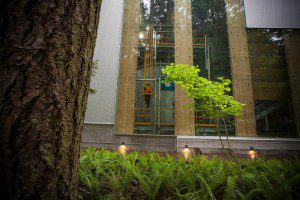 From Robert McClure for InvestigateWest and The Tyee, of British Columbia Canada, an investigation of the green energy claims from backers of burning "biomass" for fuel. In theory, the plants and trees burned are renewable, and therefore "green" as a source of energy.  But the smoke produced clouds the sunny portrait of a carbon-neutral alternative.
Photo credit: Paul Joseph Brown/ecosystemphoto.com
How U. S. Loan Enabled Environmental Destruction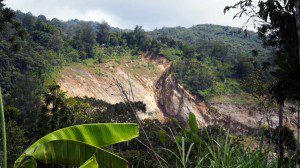 From Ian Shearn, published in The Nation, the story of a U.S. government decision to make a $3 billion loan which contradicted President Obama's pledge to address climate change by phasing out fossil fuel subsidies. Shearn uncovered evidence that the project was the cause of a deadly landslide and has continuing disastrous impacts on the local environment and communities of Papua New Guinea.
The Huffington Post also ran a compelling short documentary on the story with interviews from local residents, and officials.
An excerpt from The Nation article: "The ExxonMobil loan was hardly the only exception to [President Obama's] stated position. Since Obama took office, the Export-Import Bank has invested more than $27 billion in fossil fuel endeavors, while lending less than $2 billion to clean energy projects."
Photo credit: Olivier Pollet
FIJ Announces Grant Awards
(Washington)
The Fund for Investigative Journalism has awarded $62,700 in grants to support journalists working on 14 projects in the United States, Asia, Africa and the Caribbean. The journalists are investigating corruption, malfeasance, and abuse of power in the public and private sectors.
Since 1969, FIJ has supported independent investigative reporters with grants that cover the cost of reporting, such as travel, document fees, and equipment rental. Recently FIJ has begun to award small stipends as part of the overall grant. A typical grant is $5,000.
The following reporters received FIJ awards:
Jason Berry, author and freelance journalist
Roddy Boyd, financial investigative reporter
Steve Brenner, sports journalist
Maurice Chammah, Juvenile Justice Information Exchange
Ezra Fieser, foreign correspondent based in the Dominican Republic
Celeste Fremon, LA-based writer and editor
Joseph Mazige, Kampala-based investigative reporter
Moises Mendoza, Shaminder Dulai, Urs Spindler, and Jason Witmer – based in the US and Germany
Vivekananda Nemana and Ankita Rao, American multimedia journalists based in Hyderabad, India
Christopher Pala, Washington DC-based investigative reporter
Kate Pastor, Bronx-based journalist
Alisa Roth, editor, Life of the Law
Khadija Sharife, Africa-based writer
Laird Townsend, director of Project Word
The Fund for Investigative Journalism is supported by The Ethics and Excellence in Journalism Foundation, The Reva and David Logan Foundation, The Park Foundation, The Morton K. and Jane Blaustein Foundation, The Nicholas B. Ottaway Foundation, The Green Park Foundation, The Gannett Foundation, The Nara Fund, and individual donors, many of them referred by the Catalogue for Philanthropy: Greater Washington.
Pro bono legal services are provided by Dykema Gossett PLLC, a national commercial law firm with a broad portfolio of community service and pro bono clients.
Pro bono business advisory services are provided by Leigh Riddick, Associate Professor of Finance at The American University's Kogod School of Business.
UPCOMING DEADLINE: FIJ is currently accepting applications for its next round of grant-making. The deadline is Monday, May 5, at 5pm Eastern time.
FIJ makes grants three to four times a year.