50 years after partial nuclear meltdown, clean up still lags at Southern California laboratory
In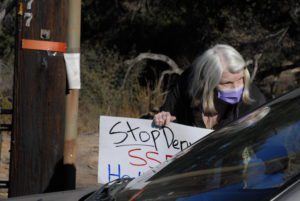 a series of reports for The California Report, Chris Richard investigated the long-stalled cleanup of the Santa Susana Field Laboratory near Los Angeles. He describes how NASA and the Department of Energy failed to fulfill their legal commitments to remove the contamination they and other federal agencies caused, including the radiation from a partial nuclear meltdown a half century ago. Richard reports that the environmental damage has yet to be fully addressed. A final segment examined similar regulatory failures by California's Department of Toxic Substances Control.
(Photo by Chris Richard/KQED: Jeanne Fjelstad hands out a leaflet warning visitors to the Santa Susana Field Laboratory of remaining chemical and nuclear contamination.)
[Reporting for this project was sponsored by the Park Foundation.]
Hundreds of convicted terror suspects have been released
Over the past 15 years, the U.S. government has quietly released more than 400 people convicted on international terrorism-related charges. Some were deported to other countries following their prison terms, but a large number of convicted terrorists are living in the United States. Reporting for the Intercept, Trevor Aaronson tells this story through the case of the Liberty City Seven, a group of men caught up in an FBI counterterrorism sting in Miami in 2006. A decade later, all but one of the Liberty City Seven defendants are free, suggesting these so-called terrorists weren't particularly dangerous in the first place. Aaronson's latest piece is part of a larger body of work that examined 15 years of terrorism international prosecutions in the United States.
(In photo by Trevor Aaronson: Patrick Abraham is one of the so-called "Liberty City Seven" who were convicted of conspiracy to provide material support to a terrorist organization, among other charges. After he was released, he returned to Haiti, where he teaches English at a school in Port-au-Prince.)
[Reporting for this project was sponsored by the Ethics and Excellence in Journalism Foundation.]
Fraud allegations point to challenges in reforming L.A. sheriff's office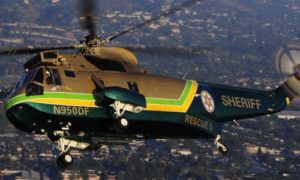 In the last four years twenty-one members of the Los Angeles County Sheriff's Department have been convicted of federal crimes, including the department's popular former sheriff Lee Baca, causing the head of the FBI's Los Angeles office, to describe the LASD as having a "toxic culture of corruption seen only in the movies." A three-part investigation by WitnessLA by Celeste Fremon into possible incidents of fraud relating to a fleet of Sea King helicopters loaned under a controversial Defense Department program suggests challenges remain in rooting out a culture of fraud.
[Reporting for this project was sponsored by the Ethics and Excellence in Journalism Foundation.]
2017 FIJ diversity fellows get to work; head to IRE, Logan conferences
Seven journalsts selected as diversity fellows by the Schuster Institute and the Fund for Investigative Journalism have begun working on their projects.As they continue their reporting, the fellows will take part in training and networking conferences — thanks to the generosity of Jon Logan and the Reva and David Logan Foundation.Three of the fellows are spending the final days of April at the University of California, Berkeley, for the invitation-only Logan Symposium. The remaining four head to Phoenix in June for the IRE conference.Funding from the Logan Foundation allows FIJ to pay the full cost of registration, airfare and accomodations for the fellows.
Lisa Armstrong, Michele Chabin, Lottie Joiner, Jaeah Lee and Linda Matchan were announced earlier this year as FIJ Schuster Institute Social Justice Investigative Reporting Fellows. Sonia Paul and Stacy Thacker were selected as investigative "rising stars."
The fellowships, underwritten by the Ford Foundation, hopes to increase the ranks of women and journalists of color in a field where they have been underrepresented.
In other news: FIJ recently announced $120,000 in grants for investigative journalism. Visit FIJ.org for a list of the latest grant recipients. (more…)
The Fund for Investigative Journalism Is Hiring
The Fund for Investigative Journalism seeks Director of Operations
The Fund for Investigative Journalism (FIJ) helps fund groundbreaking investigative stories that otherwise would not be told. Founded in 1969, FIJ makes grants to independent investigative journalists who have great tips, ideas, and sources, but need financial resources to do their work.
FIJ is governed by a board of experienced investigative journalists. It is an organization of journalists helping journalists by raising the funds that make independent watchdog reporting possible.
To help meet the growing needs of investigative journalists who work independently, without the resources or protection of media organizations and newsrooms, FIJ is hiring a Director of Operations.
The Director of Operations oversees all office operations and procedures to ensure organizational effectiveness and efficiency and reports directly to the Executive Director. (more…)