Michigan man wins freedom 47 years after being incarcerated as a teen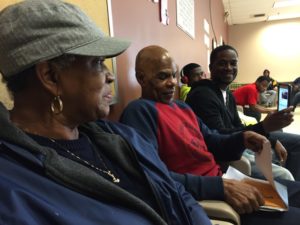 FIJ/Schuster Institute diversity fellow Lisa Armstrong continued her investigation into how the United States incarcerates juveniles. In a piece for The Intercept, Armstrong looks into the case of Zerious Meadows, who at 63 was recently released from the Macomb Correctional Facility near Detroit.  He spent 47 years behind bars. The United States is the only country that sentences minors to life in prison without parole, Armstrong has previously reported. In her current project, Armstrong notes that Michigan has the second-highest number of juvenile lifers in the country. A 2016 court decision gave the approximately 1,500 people who were sentenced before 2012, like Meadows, a chance at release.
In photo by Lisa Armstrong, Zerious Meadows, center, spends time with family after being released from the Macomb Correctional Facility near Detroit.
[Funding for this project was provided by the Ford Foundation.]
Investigation highlights need for better monitoring of pollutants dumped into New York City waterways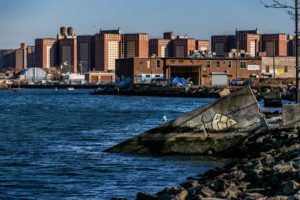 New York City is threaded with heavily polluted waterways, like the Gowanus Canal, Newtown Creek and the Bronx River, where sewage and chemicals sometimes make the water dangerous to even touch. An investigation by City Limits shines light on an undercovered element of the city's ongoing violation of the Clean Water Act: raw sewage from homes and apartments pumped through illegal pipes into waterways, and industrial chemicals dumped down storm drains or leaked onto waterfront land. Individual incidents can involve hundreds of thousands of gallons of raw sewage a day, but no one knows the full extent of the problem. Dozens of times each year, monitoring devices pick up high fecal bacteria counts, but the city often cannot find their origin. City Limits' report highlights the need for more intense monitoring and broader public awareness if swimmable, fishable water is ever going to be reality in the five boroughs.
WNYC recently featured the investigation by City Limits.
In photo by Adi Talwar for City Limits, city investigators have found more than a dozen buildings encompassing nearly 1,000 homes whose sewage was running into Coney Island Creek via an illicit connection.
[Funding for this project was provided by the Park Foundation.]
As Hilcorp plans to drill in Arctic waters, a troubling trail of violations surfaces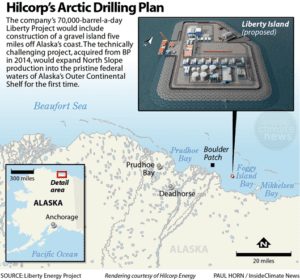 InsideClimate News delved into the regulatory record of the energy company Hilcorp, a Houston-based firm that has kept a low profile despite being one of the country's largest privately held oil and gas producers. As Hilcorp makes plans to drill in the Arctic, InsideClimate reviewed thousands of pages of government documents and conducted interviews with industry experts and watchdogs. The investigation by InsideClimate portrays a company that critics say prioritizes an aggressive expansion in Alaska while repeatedly falling short on safety and environmental protection. A version of the story was also published in the Dallas Morning News.
[Funding for this project was provided by the Park Foundation.]
Months after Hurricane Harvey, confusion remains in recovery efforts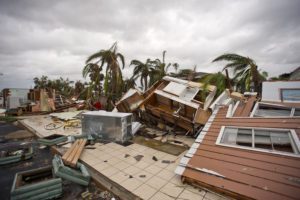 Hurricane Harvey wreaked havoc on the Texas Coast in the waning days of August, dumping more than 50 inches of rain in parts of the Houston area. The storm flooded thousands of homes and killed more than 80 people. The devastation was swift, and the recovery is far from over. The Texas Tribune, in collaboration with Reveal and ProPublica, investigated recovery efforts and found deep problems caused by repeated flooding in overbuilt areas of Houston and a tangle of conflicting priorities when it comes to aiding private developers and individual homeowners. Months after Harvey, some displaced families remain in limbo. The lack of data, including the true extent of personal financial ruin, could deepen the woes of many homeowners who could fall through the cracks because of daunting layers of government bureaucracy. The multi-part series also documented the dilemma of competing priorities between public flood control projects and private loss.
In photo by Eddie Seal for the Texas Tribune: A destroyed motel in Rockport on August 28, 2017. The motel was heavily damaged as Hurricane Harvey made landfall as a category 4 hurricane with winds of 130 mph in Rockport on Friday, August 25, 2017.
[Funding for this project was provided by the Park Foundation.]
Cost of securing beds for foster care children rises sharply in Washington state
In its continuing coverage of the Washington state's foster care system, InvestigateWest, in partnership with the news site Crosscut.com, reports that state officials have nearly doubled the amount it pays to secure beds for children, from $325 per night to $600. Recently obtained payment records and confidential but incomplete data obtained by InvestigateWest shows how some host families are making a small fortune as the state grapples with finding solutions for what one state official called "child mills."  What's more, the state sometimes spends more than $2,000 per night to provide children shelter at hotels. The ongoing work by InvestigateWest and Crosscut prompted a forum that drew hundreds of people and garnered attention by lawmakers, who have enacted new laws to address shortcomings in the state's foster care system.
In photo by Kathryn Sauber for InvestigateWest, foster kids and their advocates rally in Olympia last spring.
[Funding for this project was provided by the Ethics and Excellence in Journalism Foundation.]
Reflecting on the year just past, while ushering changes in the New Year
As the new year gets into full gear, It's a good time to look back at the work FIJ grantees have produced. Last year, grant recipients have published about three dozen projects.
In December, we feature a trove of stories – including a deep dive into the background of a Kentucky legislator, further risks of corruption in Colombia and stories about the criminal justice system from two of our FIJ/Schuster Institute diversity fellows.
FIJ's ability to sponsor this kind of reporting depends on the financial support we receive from donors.
FIJ is fortunate to get additional backing from longtime supporters like the Morton K. and Jane Blaustein Foundation, which recently awarded FIJ $35,000 for each of the next two years.
In addition, The Nara Fund has given FIJ another $15,000. In its award letter, the fund said it was inspired by FIJ's work, and it was "honored to help support it, especially so at this time."
Hard-hitting, fact-based journalism is needed more than ever, and FIJ is determined to help freelance and independent journalists continue to deliver quality watchdog journalism in the New Year.
The New Year also brings new leadership to FIJ's governing board. Marcia Bullard, a past president and chief executive officer of the national magazine USA WEEKEND, will take the helm of the board when current president Ricardo Sandoval-Palos steps down.
"This is a critical time for America to support independent and investigative journalism," Bullard said. "It's energizing that so many people are donating to FIJ so we can continue this work. I expect 2018 will bring many important stories to light." (more…)