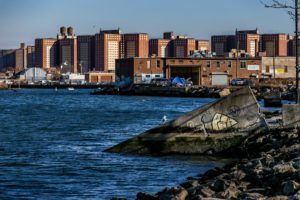 New York City is threaded with heavily polluted waterways, like the Gowanus Canal, Newtown Creek and the Bronx River, where sewage and chemicals sometimes make the water dangerous to even touch. An investigation by City Limits shines light on an undercovered element of the city's ongoing violation of the Clean Water Act: raw sewage from homes and apartments pumped through illegal pipes into waterways, and industrial chemicals dumped down storm drains or leaked onto waterfront land. Individual incidents can involve hundreds of thousands of gallons of raw sewage a day, but no one knows the full extent of the problem. Dozens of times each year, monitoring devices pick up high fecal bacteria counts, but the city often cannot find their origin. City Limits' report highlights the need for more intense monitoring and broader public awareness if swimmable, fishable water is ever going to be reality in the five boroughs.
WNYC recently featured the investigation by City Limits.
In photo by Adi Talwar for City Limits, city investigators have found more than a dozen buildings encompassing nearly 1,000 homes whose sewage was running into Coney Island Creek via an illicit connection.
[Funding for this project was provided by the Park Foundation.]