Faulty intelligence may have led to U.S. military operation that killed 10 Somali civilians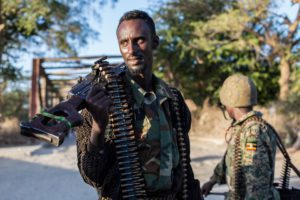 Christina Goldbaum spent three months investigating a U.S. Special Forces-led operation in Bariire, Somalia and found compelling evidence that U.S. Special Operators fired upon and killed 10 civilians, including a child.  Goldbaum's reporting for the Daily Beast showed that the decision to fire was partly based on information from notoriously untrustworthy sources and made despite concern from African Union Peacekeeping leadership. The story prompted U.S. Rep., D-California, to call for a House Foreign Affairs Committee hearing on U.S. counter-terrorism in Africa, using his time to discuss the Daily Beast investigation.  The Head of U.S. Africa Command requested the Defense Criminal Investigative Service open its own investigation into the operation. In an internal memo obtained by Goldbaum, the head of U.S. Specials Operations Command in Africa urged his troops to use greater caution and obtain high level approval for all ground operations.
In photo by Christina Goldbaum, a Somali National Army soldier goes on foot patrol with African Union Peacekeeping Forces in Afgoye.
[Funding for this project was provided by the Reva and David Logan Foundation.]