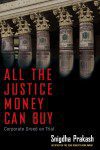 "All the Justice Money Can Buy" is the true-life story of a courtroom showdown between the man many consider the best trial lawyer of his generation and one of the nation's richest and most-respected corporations.
Recipient of the 2009 Gene Roberts Book Award, investigative journalist and former National Public Radio (NPR) reporter Snigdha Prakash was embedded with the plaintiffs' team for the seven-week trial, and takes us into the trenches of the tough—and dirty—battle between corporate interests and the individual that plays out in the courts. From early mornings when Lanier works in his hotel suite, to the daily post-mortems after court, and late nights in the plaintiffs' "war room," Prakash shadows Lanier and his team.
With its bird's-eye view of the strategic thinking and meticulous planning that undergird Lanier's seemingly unrehearsed performances in court, and of the well-oiled machine of lawyers and assistants that backs his every move, "All the Justice Money Can Buy" is a fast-paced, often funny journey behind the front-lines of a high-stakes, 21st century legal trial. Along the way, Prakash renders a piercing portrait of the challenges that await those who would take on corporate interests.
Part corporate expose´ and part legal thriller, "All the Justice Money Can Buy" is a gripping—and topical—read for our scandal-plagued times. Prakash will read from her book and sign copies at Politics and Prose, 5015 Connecticut Avenue NW, Washington DC, this Saturday, June 18, starting at 6pm.