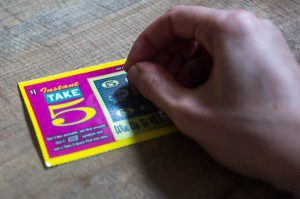 From Jarrett Murphy and Kate Pastor for City Limits, a report on the state of gambling in New York, where more casinos will be opening now that voters have approved a constitutional amendment.
The winners and losers are not easy to predict, according to the report: [T]he number of existing gambling options raises the question of whether new casinos will draw new players to the market or merely pick off customers who are now placing their wagers at a racino, at an Indian gambling or via the lottery.
The new revenue from casinos has been pledged to help schools, echoing promises made for Lottery proceeds. City Limits investigated whether that promise was fulfilled, finding: Since 1995, the state's Lottery revenue has grown faster than state spending on schools (Lottery revenues are up 145.83 percent from 1995 while state spending on schools is up 117.89 percent). Meanwhile, per pupil spending by the state actually declined in recent years. 
Photo Courtesy of Karla Ann Cote.