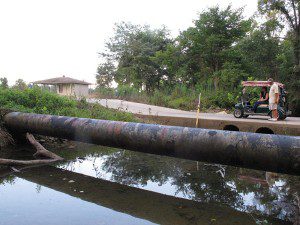 From Sam Eifling for the Arkansas Times, an investigation of the rupture of an ExxonMobil pipeline that spilled oil and released fumes throughout a neighborhood in Arkansas. Before the spill, residents didn't know they were living above a pipeline.
     "The oil went to the lake, [Ann] Jarrell said. "But the toxic fumes came to us."
In one part of the series, he reports the health risks are still largely unknown, at least to the people affected:  Most doctors aren't trained in environmental medicine that would prepared them to treat patients with chemical exposure and oil companies such as ExxonMobil consider the chemical formula proprietary anyway.
In another part, Eifling traces the path of the 858 mile long pipeline, some of it above ground, some of it below.  In Arkansas:  .. it crosses watersheds for 18 drinking water sources that together serve about 770,000 people, a quarter of the state's population.
The Arkansas Times series has been featured on TV by Rachel Maddow and by a local Fox News station.
Photo Courtesy of Sam Eifling.