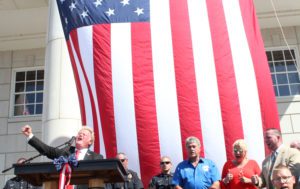 A seven-month investigation by the Kentucky Center for Investigative Reporting revealed what it called "a Kentucky preacher-turned-politician's web of lies." The package, written by by R.G. Dunlop and Jacob Ryan, exposed what the center said was a series of deceptions over decades by state Rep. Dan Johnson, a self-anointed "pope, bishop and minister to outcasts."
The FIJ-sponsored investigation partly focused on the allegations of a 21-year-old woman who said she was molested by Johnson in his church basement when she was 17. It was part of a broader examination of the institutional failures that allowed Johnson to ascend into positions of power, including election to the statehouse.
Two days after "The Pope's Long Con" was published on Dec. 11, 2017, Johnson killed himself, the Bullitt County coroner told the Associated Press.
During his rise, Johnson claimed to have served as the White House chaplain to three presidents and as a United Nations ambassador. He said he performed last rites for all of the victims pulled from the fallen towers of the World Trade Center during the Sept. 11, 2001, terrorist attacks.
In its reporting, the center conducted more than 100 interviews and inspected thousands of pages of public documents, including police reports and court files.
KyCIR, a project of Louisville Public Media,  said Johnson declined to be interviewed despite numerous requests.
Louisville Public Media President Michael Stoler said he was saddened by Johnson's apparent suicide and offered condolences to his family, and stood resolute in his newsroom's mission "to provide the public with fact-based, unbiased reporting and hold public officials accountable for their actions."
(In photo by Jacob Ryan, Kentucky state Rep. Dan Johnson at a 9/11 memorial event in Bullitt County on Sept. 10, 2017.)