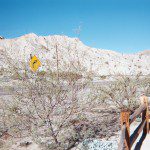 Freelance journalist Heather Smathers reports that progress on a Chinese solar power manufacturing project in Nevada is slow-going.
"The company [ENN Group of Langfang, China] is still working on obtaining its power purchase agreement, which is needed before the land can transfer.."
"Failure to secure a power purchase agreement with a qualified buyer could make the deal null and void. ENN officials were given 18 months to secure the agreement in December, 2011. To date, the PPA has not been secured. Western Area Power Administration, a division of the U.S. Department of Energy, markets and delivers power within 15 states in the West and Midwest. WAPA officials said ENN had not requested to interconnect with their grid, and said they did not have any records on ENN at all."
"As an economic development incentive, the 9,000 acres where the proposed plant will be built were optioned to ENN far below market value, begging the question why Clark County [Nevada], in an economic doldrums for several years, would sell land so cheaply. Even though the law says it's legal to do so, the question remains why Clark County officials are so quick to dispose of the land for a fraction of the market value.
"According to public records obtained from Clark County, as of Dec. 13, 2011, the land appraised for $2,750 per acre, or $24.7 million. The land option agreed to between the county and ENN puts the purchase price at $4.5 million, or $500 per acre."