Boys Home Investigated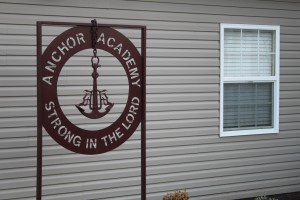 From Missouri, the legacy of a residential treatment facility for boys and young men, and stories of an abusive regime of "tough love." Maurice Chammah, reporting for the Juvenile Justice Information Exchange, talks to the teens who lived there about the memories that haunt them. He also talks with the staff who tried to maintain control.
[Reporting sponsored by The Ethics and Excellence in Journalism Foundation.]
Photo credit: Maurice Chammah.
When Wall Street Invests in Plantations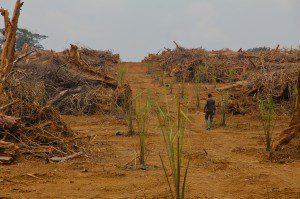 From Cameroon, Christiane Badgley reports for Foreign Policy on the bulldozing of forest land for plantations of trees which produce an oil used as biofuel, and for household purposes such as cooking.  "The world is upside down," the founder of a Cameroon NGO told Badgley, because the country has to import $600 million worth of food each year, while striking deals favorable to international agricultural ventures. The investors are allowed to buy land cheaply, receive tax breaks, and despite publicly proclaimed goals of lifting local people out of poverty, the projects raise many unsettling questions. Will the development be environmentally sustainable, and will it turn self-sufficient farmers into low-wage plantation workers?
[Reporting sponsored by The Green Park Foundation.]
Photo credit: Christiane Badgley
FIJ Awards Grants to Investigative Reporters
(Washington) – The Fund for Investigative Journalism (FIJ) has awarded nearly $80,000 in grants to support journalists working on 18 projects in the United States and abroad. The journalists are investigating negligence, corruption, and abuse of power in fields such as mental health, government contracting, and criminal justice.
Since 1969, FIJ has supported independent investigative reporters with grants that cover the cost of reporting, such as travel, document fees, equipment rental; smalls stipend are also considered as part of the overall grant. A typical grant is $5,000.
The following reporters received FIJ awards:
Mark Betancourt, DC-based multimedia journalist
Mariah Blake, Mother Jones
Adriana Cardona-Maguigad and Rafael Franco Steeves, fellows with the Social Justice News Nexus at Northwestern University
Beth Cortez-Neavel, Austin-based multimedia and data journalist
Allyn Gaestel, international freelance journalist
Wanjohi Kabukuru, Kenya-based journalist
Jeff Kelly-Lowenstein, journalist and Columbia College of Chicago journalism professor
Jeremy Knop, Montana Center for Investigative Reporting
Christian Locka, multi-media investigative reporter
Claudine LoMonaco, Berlin-based freelance reporter and radio producer
Daniel McGraw, Cleveland-based investigative reporter and author
Caitlin McNally, documentary filmmaker
Christopher Richard, LA-based investigative reporter
Mark Richardson, investigative reporter specializing in government and politics
Joseph Sorrentino, Albuquerque-based photographer and journalist, focused on the US-Mexico border region
Loren Stein, DC-based investigative journalist
Estacio Valoi, Mozambican investigative journalist
WAMU-Radio investigative staff
The Fund for Investigative Journalism is supported by The Ethics and Excellence in Journalism Foundation, The Reva and David Logan Foundation, The Park Foundation, The Morton K. and Jane Blaustein Foundation, The Nicholas B. Ottaway Foundation, The Green Park Foundation, The Gannett Foundation, The Nara Fund, and individual donors, many of them referred by the Catalogue for Philanthropy: Greater Washington.
Pro bono legal services are provided by Dykema Gossett PLLC, a national commercial law firm with a broad portfolio of community service and pro bono clients.
Pro bono business advisory services are provided by Leigh Riddick, Associate Professor of Finance at The American University's Kogod School of Business.
UPCOMING DEADLINE: FIJ is currently accepting applications for its next round of grant-making. The deadline is Monday, September 8, at 5pm Eastern time.
Payday Lending Controls Stymied in Iowa
IowaWatch reports on the behind-the-scenes money in the battle to curb payday lending in Iowa:
Campaign contributions to Iowa legislators from payday loan-associated donors totaled over $480,000 between 2003 and 2013, according to Iowa Ethics and Campaign Disclosure Board data collected by IowaWatch. An additional $800,000 has flowed into the state as payday loan companies and interest groups contract lobbyists to speak in favor of the industry in the Iowa Statehouse….
With state legislation stalling, Iowa cities have taken action. Over the past four years, nine Iowa cities passed ordinances restricting locations for new payday loans stores. But cities can't control interest rates.
Waterloo City Council Member Pat Morrissey, who spearheaded Waterloo's recent ordinance, said he hoped action at the municipal level could spur the state government into action.
"Just the concept of payday loans is atrocious. It's usury and takes advantage of people who can least afford it and puts them in a cycle of debt," Morrissey said.
IowaWatch also provides a behind-the-scenes look at its reporting project.
Photo credit: Inma Mateos/IowaWatch
[Reporting sponsored by The Ethics and Excellence in Journalism Foundation.]
"Under Water"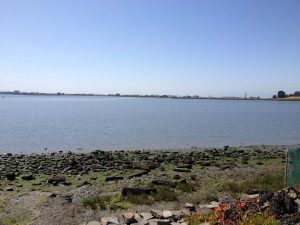 New America Media has published a special investigative report on sea levels rising in immigrant and minority communities in Northern California. In conjunction with several Bay Area ethnic media outlets, the New America Media reporters found that low income communities were particularly vulnerable, without resources to insure against loss, recover from storms, or – the most basic – to flee in the event of emergencies.
As Pilar Nino of Telemundo 48 reports:
Vital thoroughfares like Highway 101 could be flooded, along with power plants, public schools and fire stations. 
That's why special measures like new taxes would have to be undertaken by people to confront this threat, said San Mateo Mayor Robert Ross.
[Reporting sponsored by The Ethics and Excellence in Journalism Foundation.]
Grants Available for Investigations
(Washington)  The Fund for Investigative Journalism is currently accepting grant proposals to investigate stories in the United States and abroad. The Fund supports work done in all media.
The deadline for applications is Monday, September 8 at 5pm Eastern Time.
From this home page, click on "Apply for a Grant" for detailed instructions. If you have further questions about the application process, call 202-662-7564 or email fundfij@gmail.com.
The Future of Medical Research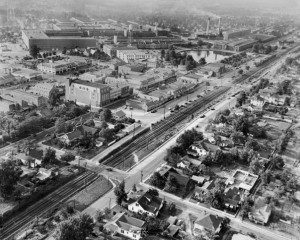 Amanda Wilson has the story of a North Carolina town that found new purpose after the Cannon towels mill shut down. That is: supplying human subjects for medical research projects far into the future. For Pacific Standard, she reports:
The [Duke University] spinoff is a joint venture with LabCorp, one of the largest clinical lab testing firms in the U.S. In the partnership, Duke brings biological material to the table—20 percent of the samples from the MURDOCK Study—and LabCorp brings cash: $24 million. The goal of the new company is to rapidly turn discoveries from the MURDOCK Study into intellectual property and lab-test products.
IF THOSE PRODUCTS GO to market and are successful, it will no doubt be good for Kannapolis; one way or another, some portion of the profits will probably filter through the town's economy. But it's not exactly clear how. A generation ago, the average Kannapolite derived a sizable share of the prosperity generated by the mill. How much will the average Kannapolite share in the prosperity of ventures like the Biomarker Factory, and of the town's new biotech economy writ large?
Wilson talks about her story on Hear and Now, produced by NPR and WBUR-Boston.
She also appeared on The State of Things, broadcast by WUNC and produced by North Carolina Public Radio.
[Reporting sponsored by The Ethics and Excellence in Journalism Foundation.]
Photo credit: Kannapolis History Associates
Environmental Prosecutions Rare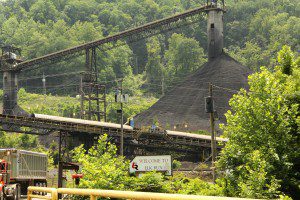 Graham Kates of The Crime Report has found that environmental violations are rarely prosecuted by the federal government.
An excerpt: …an analysis by The Crime Report of thousands of records compiled by the Environmental Protection Agency (EPA), reveals that enforcement of corporate environmental crime remains extremely rare.
More than 64,000 facilities are currently listed in agency databases as being in violation of federal environmental laws, but in most years, fewer than one-half of one percent of violations trigger criminal investigations, according to EPA records.
The Crime Report also put together a searchable database, of EPA violations, available to the public. [Reporting sponsored by the Park Foundation.]
Kates talked about his report on Democracy Now.