Giving Thanks
The board and staff of the Fund for Investigative Journalism would like to express our gratitude to the following organizations and individuals who have donated time and resources in support of our work during the past year.
Major Contributors:
Ethics and Excellence in Journalism Foundation
Gannett Foundation
Green Park Foundation
Morton K. and Jane Blaustein Foundation
Nicholas B. Ottaway Foundation
Otto-Whalley Family Foundation
Park Foundation
Shari L. Pfleeger
Reva & David Logan Foundation
Connie Rydberg and Nirav Kapadia
The Estate of William L. Matzkin
The Herb Block Foundation
The Nara Fund
Partners:
Catalogue for Philanthropy – Greater Washington
Investigative Reporters and Editors
Schuster Institute for Investigative Journalism at Brandeis University
Society of Environmental Journalists
Eric Fingerhut, Pro Bono Attorney, Dykema
Leigh Riddick, Pro Bono Financial Advisor, Kogod School of Business, American University
Mentors:
David Biello, Scientific American
Ron Campbell, Orange County Register
Rose Ciotta, WIBV-TV – Buffalo
Wendell Cochran, American University
Sarah Cohen, New York Times
Marla Cone, Environmental Health News
Chase Davis, New York Times
David Donald, Center for Public Integrity
Peggy Engel, Alicia Patterson Foundation
Mark Feldstein, University of Maryland
Gary Fields, Wall Street Journal
Robin Fields, ProPublica
Mary Fricker, RepoWatch
Ryan Gabrielson, Center for Investigative Reporting
James Grimaldi, Wall Street Journal
Dianna Hunt, Fort Worth Star-Telegram
Ingrid Lobet, Houston Chronicle
Kristen Lombardi, Center for Public Integrity
Elizabeth Lucas, Investigative Reporters and Editors
Josh Meyer, Northwestern University
Jim Morris, Center for Public Integrity
Shawn Musgrave, Muckrock
Deborah Nelson, University of Maryland
Lise Olsen, Houston Chronicle
Judy Pasternak, Author
John Ryan, KOUW Radio – Seattle
Ricardo Sandoval Palos, Human Rights Watch
Tony Schick, Investigative Reporters and Editors
Andy Segal, Andy Segal Productions
Ken Silverstein, Al Jazeera America
Joe Stephens, Washington Post
Tisha Thompson, WRC-TV – Washington DC
Mc Nelly Torres, Florida Center for Investigative Reporting
Ken Ward, Charleston Gazette
Chris Woodside, Freelance
Alison Young, USA Today
Scott Zamost, CNN
Daniel Zwerdling, NPR
Probing a Lesser Known ExxonMobil Spill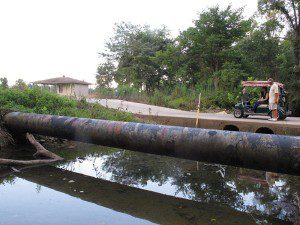 From Sam Eifling for the Arkansas Times, an investigation of the rupture of an ExxonMobil pipeline that spilled oil and released fumes throughout a neighborhood in Arkansas. Before the spill, residents didn't know they were living above a pipeline.
     "The oil went to the lake, [Ann] Jarrell said. "But the toxic fumes came to us."
In one part of the series, he reports the health risks are still largely unknown, at least to the people affected:  Most doctors aren't trained in environmental medicine that would prepared them to treat patients with chemical exposure and oil companies such as ExxonMobil consider the chemical formula proprietary anyway.
In another part, Eifling traces the path of the 858 mile long pipeline, some of it above ground, some of it below.  In Arkansas:  .. it crosses watersheds for 18 drinking water sources that together serve about 770,000 people, a quarter of the state's population.
The Arkansas Times series has been featured on TV by Rachel Maddow and by a local Fox News station.
Photo Courtesy of Sam Eifling.
Gambling on Casinos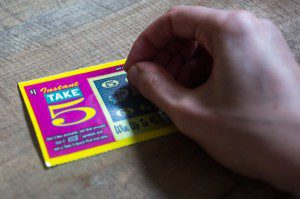 From Jarrett Murphy and Kate Pastor for City Limits, a report on the state of gambling in New York, where more casinos will be opening now that voters have approved a constitutional amendment.
The winners and losers are not easy to predict, according to the report: [T]he number of existing gambling options raises the question of whether new casinos will draw new players to the market or merely pick off customers who are now placing their wagers at a racino, at an Indian gambling or via the lottery.
The new revenue from casinos has been pledged to help schools, echoing promises made for Lottery proceeds. City Limits investigated whether that promise was fulfilled, finding: Since 1995, the state's Lottery revenue has grown faster than state spending on schools (Lottery revenues are up 145.83 percent from 1995 while state spending on schools is up 117.89 percent). Meanwhile, per pupil spending by the state actually declined in recent years. 
Photo Courtesy of Karla Ann Cote.
Women, War, and PTSD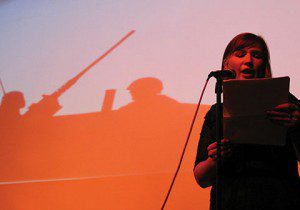 From Laura Kasinof for Washington Monthly, an article about the post-war grief that may impact women who have served in the military differently than men. An excerpt: *While it's clear that war is hell for everyone, men and women alike, it's unclear how the unique female experience in the barracks, on the battlefield, and back at home may affect them differently. Female veterans are already more likely than male veterans to be homeless, divorced, or raising children as single parents. Female vets under fifty are more than twice as likely as their male counterparts to kill themselves. And a growing body of research suggests that female vets may also be more susceptible than men to psychological disorders, including PTSD.*
*Sexual assault in the military may play a role, reports Kasinof: *Women in the military must also face "negative consequences for  reporting [abuse or harassment] or they may have to continue working with someone who has assaulted them, or they were assaulted by a commanding officer," said Janice Krupnick, research professor at Georgetown University's Department of Psychiatry, who works with female veterans.*
Photo courtesy of Warrior Writers.
Drought Creates Dilemma for Texas Farmers
From Laird Townsend for Mother Jones and the Midwest Center for Investigative Reporting, the story of family farmers facing drier than Dust Bowl conditions, and limited options.
An excerpt:  *If recent research by the US Department of Agriculture is any indication, the crop failures will be a sign of the future. In a February 2013 report, the agency rounded up relevant scientific findings from 56 experts from federal service, universities, and nongovernmental organizations. The results cast doubt on the viability of the US heartland in the age of
warming—and not just for dryland cotton. "Continued changes by mid-century and beyond," the report said, "are expected to have generally detrimental effects on most crops and livestock." Among other problems, "weed control costs total more than $11 billion a year in the US. Those costs are expected to rise with increasing temperatures and carbon dioxide concentrations."*
Photo courtesy of Ben Depp.